Penn Authority Spinning Reels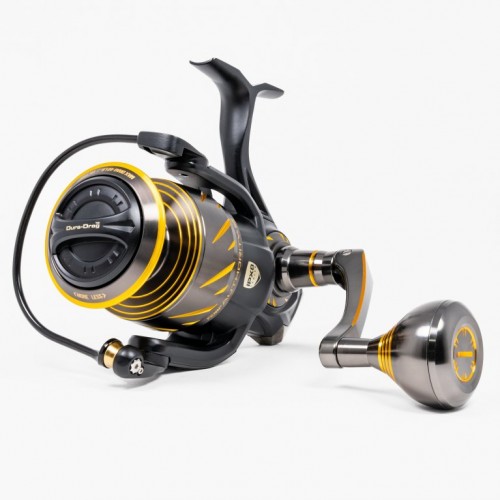 Penn Authority Spinning Reels are new for 2022! For those of you looking for a high end American designed spinning reel, this is it. The Penn Authority takes cues from the Slammer IV and ups the game to the next level. The main additions are stainless steel gears for power and longevity, IPX8 sealing and a redesigned drive train that is smoother, reduces flex and will give you a great fishing experience on the water. The Authority is built Penn tough! Constructed of aluminum it is designed to deliver high performance while also being very durable. It can handle the bumps and bruises that happen on a boat in the heat of the moment or on the beach at night. If you're worried about corrosion or failure while on the water, don't. The Authority is fully sealed and can be splashed or dunked. You don't have to worry about sand or salt penetrating the reel and ruining your day. Even with all this protection from water intrusion, the reel still has a light feel when you turn the handle. Internally there are stainless steel gears and thirteen ball bearings. The DuraDrag system is ridiculously powerful and can handle big fish after big fish! Penn Authority Spinning Reels feature an aluminum ball handle and an EVA ball handle so you can choose which is best for you. Overall you are getting a very powerful, refined reel that is totally Penn. If you love Penn reels then you have to try the Authority! Fish it on the boat, beach or pier!
Penn Authority Spinning Reels are available for sale in sizes 2500-10500. The Authroity reels are black with gold and gunmetal accents. Every reel comes with a Penn Authority neoprene reel cover.
Models: ATH2500, ATH3500, ATH4500, ATH5500, ATH6500, ATH7500, ATH8500, ATH10500
Details:
Line Capacity Braid (yds/lb) - 310/10 • 270/15 • 220/20
Retrieve - Right and Left
Line Capacity Mono (yds/lb) - 480/4 • 360/6 • 285/8
Spool Material - Aluminum
Handle Shape - Aluminum ball
Body & Sideplates:
Full metal body, sideplate and rotor
IPX8 sealed body and spool design
Externals:
Sizes 2500-5500 have automatic bail trip
Sizes 6500-10500 have manual bail trip
Drag:
Sealed Slammer drag system with Dura-Drag (Sizes 3500-10500)
HT-100 carbon fiber drag washers (Size 2500 only)
Handle:
Forged and machined aluminum one-piece handle arm with aluminum ball knob
EVA ball knob included in box
Internals:
CNC Gear Technology with stainless steel gears
12 +1 sealed stainless steel ball bearings
Leveline Slow Oscillation System
Instant anti-reverse bearing